Meadowcare has been recognised on a number of occasions during 2017 for the service we provide to our residents. The staff and management are very proud to have been presented with various awards which now stand in the reception area in pride of place for all to see.
On Saturday 14th October 2017 we were invited to attend the Care & Support West Annual Awards Ceremony as we were Finalists in 'The Organisation/Team of the year award. Nursing Home Category.' We appreciated the nominations given by several of our resident's relatives that resulted in our home being recognised for the attention we give to our residents. As one relative said "My Step Mother has been at Meadowcare for over two years. She has Alzheimer's and does not understand all that is happening to her. We are continually impressed by the level of care that all of the staff give – her health and wellbeing are kept under constant review"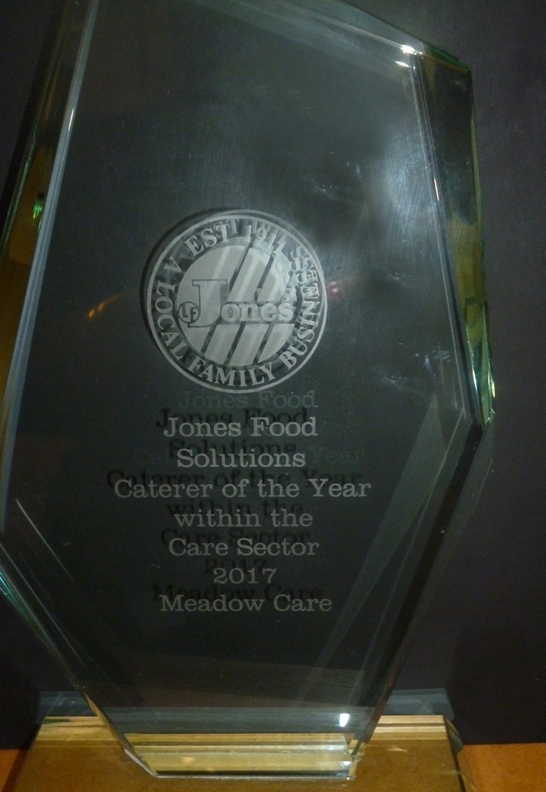 Sadly we came second, but that will just give us better motivation to try and win the award next year!
On Friday 17th November we were invited to L & F Jones (Jones Food Solutions) Gala Awards Night where we had been nominated for 'Caterer of the Year within the Care Sector'. We are pleased to say that this time we won the award which is richly deserved recognition of the quality and skill of the catering staff that we have here at Meadowcare. They constantly strive to produce nutritional menus and delicious food to assist with the health and wellbeing of our residents.
A further recognition that we are proud to report relates to the 'Activities' at Meadowcare. These are extremely important to the stimulation, well-being and entertainment of our residents. Through our involvement with the registered charity 'Alive' we have connected with the local school – Redmaids school. Children from Redmaids have visited Meadowcare on several occasions throughout the year. The title of the project 'Partners in Paint – Paint pals' aims to get children interaction with our residents through painting.
Everyone involved in this activity gained value and benefited from working together. The young children enjoyed being able to spend time engaging with the residents and the residents appreciated the time with the young people. On their final visit we were pleased to invite the Alzheimer's Society to come along and write a piece for their magazine which has now gone out to the public and is a source of inspiration to anyone living with and working with Alzheimer's.
By Karen Holley, Meadowcare Administrator