Eileen Caiger Gray reviews Sharing Joy at Cast Studio, Doncaster (July 10th 2018)
Sharing Joy is an entertainment that achieves exactly what its title suggests – and magnificently, too. Devised for Worcester-based Vamos Theatre, the UK's leading full mask and mime company, it's specifically for small audiences of those living with dementia and their carers so is often performed in care homes or cafes. Today, though, people of various ages with learning limitations also joined the audience at the theatre studio, and it was instantly clear to all, they derived a whole heap of shared joy from it, too.
The show is non-verbal from start to finish, but warm, sincere meetings, greetings and chats with each audience member came from the four actors before the start, then lengthy hugs, thanks and fond farewells for all participants at the end. Music plays and/or is performed throughout, ringing the changes through jazz, wartime and rock 'n' roll, choices that please young and old alike. Four young performers, two female, two male, add to this a well paced, mix 'n' match variety of song, dance, acrobatics, puppetry, humorous mimed sketches with great costumes, and beautiful interactive activities. Seated around in an extended semi-circle, everyone is involved and connected. Breeze wafts as everyone holds onto the edge of a huge billowing flag of a canopy, moving it up and down as giant balloons bounce on top, ready to be patted and pushed from wherever they turn up; later, lovely, long ribbon streamers get streamed and dances for all get danced. And all the while, the actors interact with each person, gently coaxing, via touch or gesture, even the most reluctant, recalcitrant, dejected, disinterested individual to make eye-contact, smile, join in and feel delighted. Their fine expertise in engaging even the disengaged and least receptive is impressive.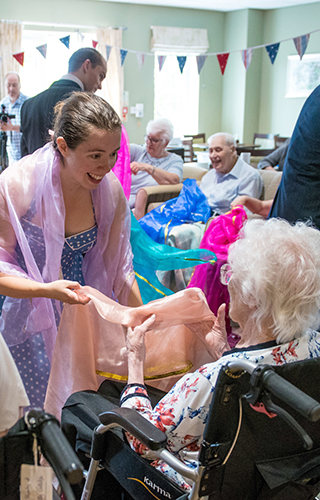 The enacted scenes are by no means all sweetness and light, though. In contrast to uplifting, nostalgic components like a Singin' In the Rain routine, an Elvis act, a Brief Encounter sketch, singing pig and hound dog puppets, a proposal, a marriage, the Anniversary Waltz and the party mood of the activities, more sinister elements of sexism and bullying occur in the scenarios, potentially uncomfortable, perhaps, especially in our more pc world. There's a truly fiercesome, frightening matron who treats her nurses abominably and wipes snot and earwax all over the place (fortunately, imaginary) before delivering a baby! Then there's an ugly brute of a shabby, randy army officer trying to get his evil way with a nice young lady. But no, the humour's met with nothing but approval and laughter, and when approached close-up by actors in costume, wearing pretty grotesque masks, surprisingly perhaps, no one freaks out. As intended, in the absence of eye-contact or changing facial expression, they react to and interact with the gesture and body language of the characters and go with it.
At the end of the show, even the most initially negative and disinterested person leaves in a state of exhilaration, having definitely shared in plenty of joy, laughter and creative celebration, away from the real world for a while. Some even seem quite prepared to dance all the way home!
Sharing Joy also serves by way as an introduction to Vamos Theatre's award-winning production Finding Joy, a full mask mime show based on a true story, written by Rachael Savage for the general public as well as for carers of those with dementia to entertain, amuse and offer new thoughts and insights into this situation.
Sharing Joy will be performed through July at many private venues, plus Matlock, Ludlow, Hereford and Stratford upon Avon, while Finding Joy will tour extensively both here and abroad throughout October and November 2018.